Can we meet you? Who is Abiola?
Abiola Bodunrin is an Artist, Art Consultant, Creative Director, Certified Educator, and Manager of Peniel Arts. I am the last child of five children. I grew up in an environment where art was welcomed, and my siblings have good drawing skills -I grew up watching them, so it was easy to pick the skill up, and it has pretty much shaped who I am right now.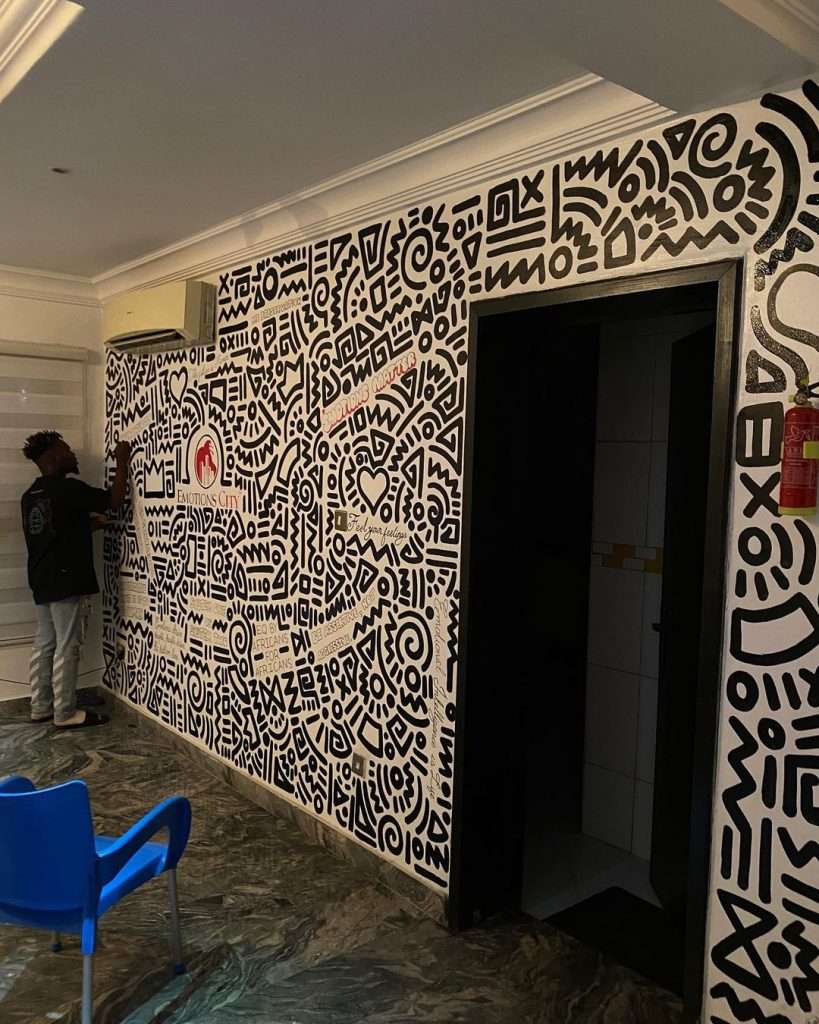 Have you always wanted to be a mural artist? How did your journey into mural artistry begin, and how has it been so far??
I wouldn't say that I've always wanted to be a mural artist per se. I would say that I've always had it in me to be an artist. It's something that comes naturally to me, and growing up, when asked what I wanted to be, I always pictured myself as an artist, but I didn't limit myself to just mural art. Art is something that encompasses my entire being. It's a way of life for me.
Painting walls started as something that I needed to do to make ends meet, and I had no idea that it would gain much attention now. I'm thankful for it, and I'm thankful for this stage that I'm in right now.
Your art niche is quite unique? How did you foray into this style of art?
I would say that I started this particular style of broad lines on the wall in late 2018. Prior to that, I was working with thinner lines, but it would always draw comparisons with more established artists, and I really didn't like that. So I tried to create something that was peculiar to me such that every time I work, the constant comparisons with other artists are no longer a thing. Instead, I get comments like, "I saw your work, and I knew it was you". It's something I had to work on overtime.
Do you think there's a market for mural art in Nigeria?
Yes. There's a huge market for it in Nigeria. And I would know because I have worked in several spaces and the reception of mural art and art in general in Nigeria is increasing and really getting better.
Tell me about your victories and your challenges as an artist.
My victory as an artist would be the ability to do something that I love doing. I love the idea of creating something out of nothing, and that's the biggest victory for me. I can do what I love and live comfortably off my art up till this point.
My major challenge would be the lack of supplies and the fact that lots of people still don't see art as something that can generate wealth, and that's a major challenge. Sometimes, when I meet clients, they tend to belittle the effort and creativity that goes into my work. They don't understand its value yet, but slowly, we're overcoming those challenges.
Who are your biggest influences?
My biggest influences are my friends – Creatus, Veddart, Sodiq Abiola, Oyediji Gideon, Kehinde Adenle. They are my biggest influences, to be honest. I wouldn't say I have connections with more established artists. Instead, I draw inspiration from the artists around me – they make me better and make me challenge myself to be better.
What's the most memorable response you've had to your work?
Every time I work and clients step in to see the work. Their smiles are all the validation I need – especially for people that are not easily pleased.
Who are your target audience, and how can Talku Talku help you reach them?
Well, my target audience would be every one that can relate to my art and those who wouldn't mind paying a premium for what I do or bat an eye because they understand the value of what I bring to the table.
What is your dream project?
To paint an entire house – inside, outside, floors, ceilings. Like a duplex, for instance, I want both the interior, exterior, and everywhere you look to be covered with Peniel arts.
What 3 things does anyone starting in this industry need to know?
You have to love art, and be hungry for it and keep developing yourself.
Secondly, you have to be stubborn. Once you start, you have to keep at it. Burn all the bridges, and know that there's no in-between.
Lastly, be patient as there will be so many tough times. A lot of people will try to rip you off and take advantage of you, but you have to be patient. Your time will come.
If I want to commission any of your works, how do I go about it?
You can send me a message via any of my social media handles – on Twitter, @peniel_art, and Instagram, @penielart. I respond to messages that are straight to the point. Just send a message inquiring about my art and the charges. You can also send me an email – [email protected].
See also: I wanted to let out of my mind…" – Meet Emmanuel Ozor