It's a great day for another late review! And this time around, we're throwing it all the way back to August 2019, the month of Niyi Akinmolayan's star-studded film, The Set Up.
Warning: Spoilers ahead (but why haven't you seen The Set Up though? Do you like the boring life you're living?)
The movie
The Set Up is a film written by Chinaza Onuzo and directed by Niyi Akinmolayan. It stars Adesua Etomi-Wellington as Chike, Kehinde Bankole as Grace, Jim Iyke as Uncle Edem, Dakore Egbuson-Akande as Motunrayo Elesho, Tina Mba as Madame Enitan, Joke Silva as Mrs. Elesho, Marie Humbert as Agent Kelly Spencer, Ayoola Ayolola as Bamidele Elesho, and other talented actors.
An ensemble cast like this should mean epic levels of "oh my God! That's amazing!" It falls a bit short, however. It would be a lie, though, to say that the movie, directed by Niyi Akinmolayan, who Nollywood experts have referred to as Nollywood's Steven Spielberg, didn't evoke any positive emotions.
For one, the movie grossed over ₦30 million in its first week in the cinemas back in 2019. This kind of figure in the Nollywood space is not attained by hype alone. Also, in its one-year Netflix run (from the 22nd of April, 2020, on Netflix), it has become one of the most-streamed Nollywood movies on the platform.
The 2-minute plus trailer didn't do the movie any justice. Now would be a good time to go on a rant about how Nollywood is rubbish at trailers, but no. The movie in itself is a high-octane story with several episodes embedded. All the characters felt like the main characters in the movie. Nobody was diminished for another, which was good to see.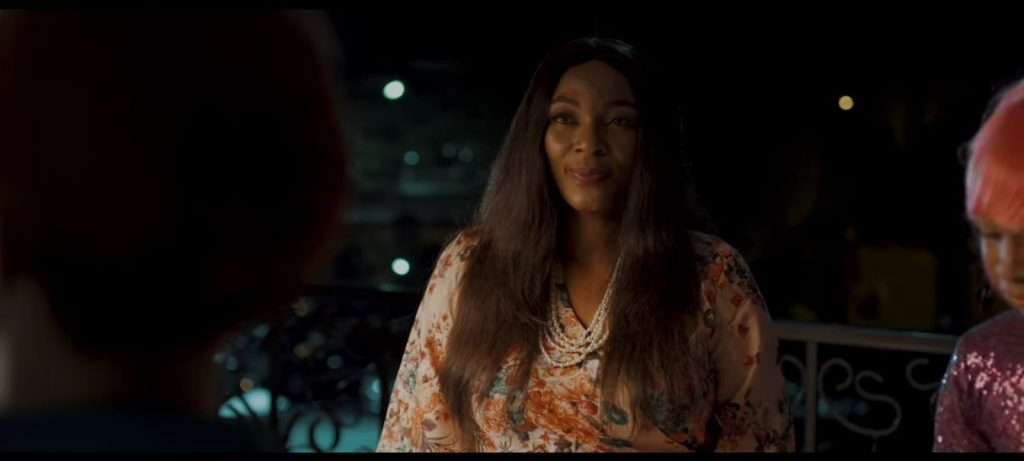 The premise
The Set Up is a crime drama suspense thriller film. It's the story of Chike (Adesua Etomi-Wellington) and Grace (Kehinde Bankole), friends from a very rough childhood marked by bullying and violent crime. They both grow into young women who decide to go into drug trafficking to save up enough money to escape their situation.
Chike's handler finally falls into the hands of the law, and that almost spelt the end for her and Grace until Madame Enitan (Tina Mba) comes to their aid, offering them a place in her "Academy" of con artists as a safety net. Unknown to them, Madame Enitan needed their skills, resourcefulness, and wit in exact revenge on Mrs. Elesho, the matriarch of the Daraja Multimillion-dollar empire, after which she was going to sell them out to the law enforcement agencies for their drug trafficking crimes.
She sets Chike up with Edem (Jim Iyke) to trap Motunrayo Elesho (Dakore Egbuson-Akande), the daughter of the Daraja empire, into marrying Edem. Alarms begin to ring in Chike's head, and she uncovers lies upon lies, including the plan to give her and Grace up to law enforcement. Chike and Grace turn the tables on Madame Enitan and Edem, while saving themselves from serious prison sentences.
Review
Confusing at first, the movie begins to come into its own after a few scenes. This is how we learn of Chike and Grace's ride-or-die friendship. Both young ladies are willing to do anything for the other, including taking the fall for each other.
Chinaza Onuzo's writing prowess shines through the chapters of the film. However, without the brilliant execution of the chapters by the director, the film would've been difficult to piece together. The film serves suspense that's hard to grasp but almost cheesy when you finally do. This, in my opinion, is an awesome feat.
The acting was another bright spot in the movie, but Tina Mba didn't convince us as Madame Enitan. Those who know me know my love for Tina Mba – I'd defend her acting till I die. However, she was a bit underwhelming (alongside Jim Iyke's Uncle Edem character), and was carried by the rest of the cast.
It could also be as a result of the storytelling, which was confusing, but Tina Mba has had better performances than she delivered as Madame Enitan in The Set Up.
The Set Up primed Motunrayo (Dakore), Chike (Adesua), and (Madame Enitan (Tina Mba) as the main characters. Niyi Akinmolayan's directing helped everyone shine forth, but Kehinde Bankole (Grace) shone the brightest.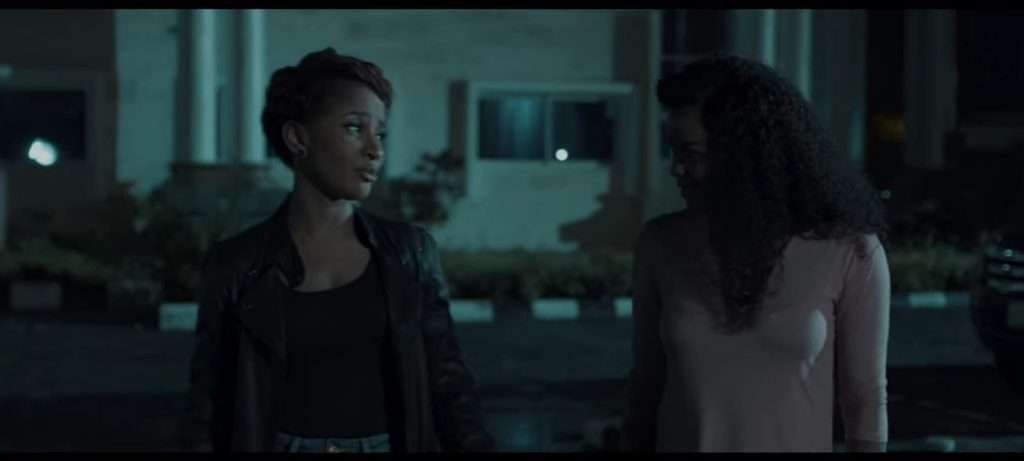 She was a thrill to watch, and she proved that her AMVCA Best Actress award was no fluke. From the strength of this movie alone, she showed that she deserves more lead roles.
The Set Up's biggest win is its cinematography. It's a great story that failed to deliver a serious punch as a whole, but Niyi Akinmolayan's directing helped Chinaza Onuzo's story come together well enough to leave a good memory. And there were no annoying product placements too! Thank the movie gods!
Verdict
The Set Up is a good movie that lived up to the hype. It wasn't perfect, but Niyi Akinmolayan showed us why he's considered one of the new Nollywood's best directors by totally saving the movie from being a cringe-fest.
It has a strong rewatch value and definitely earned all the money it did during its cinema run. Stream it on Netflix and be happy.