The Ikorodu Boys have put Nigeria on the map as a talent factory, and have given rise to a lot more groups like them in the country. Up North, we have The Critics Company, a group like the Ikorodu Boys in composition, but unique in their own right.
I came across the Kaduna-based film company after watching their Sci-Fi short film (see below) back in 2018 that introduced them to the world.
They didn't stop at this feat. They improved themselves, took up more daunting tasks, and got the attention of the world. CNN, BBC, Reuters, Al Jazeera, Billboard, amongst other notable news bodies and pop culture websites, have featured these amazing pre-teen and teenage filmmakers.
Their efforts even got them a big shoutout from a number of Hollywood stalwarts including Peter Ramsey and the one and only J.J. Abrams, who loved their work so much, that he shipped some filmmaking gear down to Kaduna for The Critics Company.
The Critics Company is now a force to be reckoned with in Nigeria's creative space. The company, managed by Ridwan Adeniyi, is fully based in Kaduna State, Northern Nigeria.
They started unofficially about seven years ago when a few cousins who were just meeting each other for the first time in their lives realized that they shared a love for movies.
" We would sit around a table talking movies every time they met. We would compare Nigerian movies to foreign ones, pointing out differences and talking about how we'd want to see Captain America, see buildings explode, and see people fly in Nigerian movies," Ridwan tells us.
They eventually decided to stop "criticising" and start making the films they wanted to see in Nollywood, a move that Nigeria as a whole thanks them for.
"It's been a tremendous journey so far," Ridwan tells us. "The Critics Company has grown over 300% in the last year. As at this time last year, the team was still back in Kudenda (a town in Kaduna State) at their parents' houses, trying to figure out this filmmaking act.
"Now, the team lives together in an apartment, owns a studio of their own, and have worked with some of the biggest brands in the world including Samsung and Kaspersky. There are also lined-up projects, including one with Revelations Entertainment – Morgan Freeman's company.
"The growth has really been tremendous from where we started to where we are today."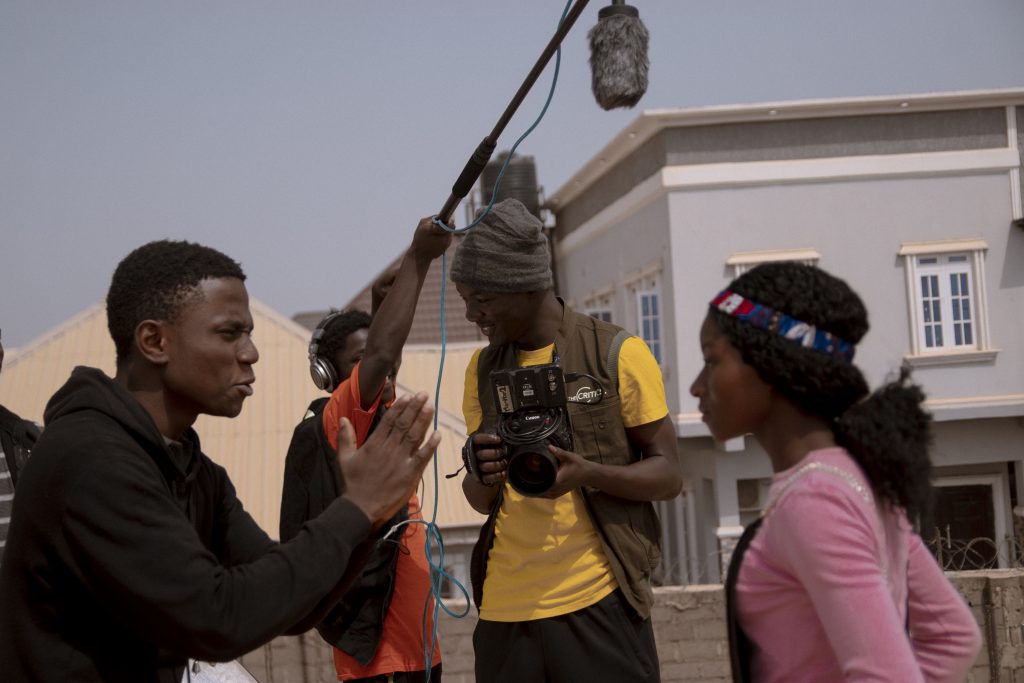 The Critics Company have had an inspiring journey. However, it's not been without challenges. For creatives in general, being in Nigeria, for one, is a big challenge.
Resources are scarce. Not many people are willing to take a bet on creatives. There's also the unfair climate of leeches both in power and in the environment who want to drain the available resources that creatives manage to gather to bring their dreams to life. Luckily for The Critics Company, these challenges are easily dealt with.
"Our challenges change from year to year. Now, our biggest challenge is storage space for our films. We film a lot and we don't have the space to store them," Ridwan laughs. "Other challenges include electricity, minor challenges here and there, but our biggest right now is the storage space."
I went on to ask if being based in the North also posed a challenge to The Critics Company. Like Ganeeyah Sani, the founder of KAFART who we showcased in this article, Ridwan says no. In fact, he believes that being based in the North is their strongest asset.
"I know a lot of people like to see the North as a backward place – a place that has little to contribute to the entertainment industry, but it helps how we see our stories.
"From the plain lands of the Sahara to the hilltops in Kogi State, the north helps to shape our films. Without them, our cinematic efforts will not look different from what's already out there.
"We also get a lot of support from people who are excited to see their young people doing big stuff like what we do. The locals would show us the way to streams, farmlands and even help us in our shoots. The North is a big asset to us."
Ridwan goes on to speak on how big an asset the North is to the success of The Critics Company: "There's a rich cultural heritage in the North that people haven't really tapped into.
From locations that you can't find anywhere else in Nigeria to the stories, there's a lot to work with. These stories are very original and particular to the North and help us a lot."
This is the life that many creatives wish for down South. It's hard not to stay motivated when you have such beautiful scenery to work with and people willing to spend their time to help you make your dreams come true.
However, Ridwan, as the manager, still has challenges keeping the team motivated. "How do you motivate a person who has seen it all and been in circles that many can only dream of?" he asks.
"How do you motivate people who have made it – in their minds? How do you motivate people who have interacted with the likes of Ava DuVernay, Naomi Campbell, J.J. Abrams, Franklin Leonard? What else is there for them? It's a big challenge, really."
"We only try to remember where we're coming from and it helps us remember where we're going."
The Critics Company really hasn't forgotten where they're coming from. Their upcoming project is a feature film titled "Astronaut Story" that'll be shot entirely using mobile phones, which is how they started.
This will be their first feature film after serving greatness in short film form to Nigeria and the world for the better part of three years-officially. Ridwan tells us of their future projects, "The work we do isn't easy. VFX takes a long time to finish, but the future is very bright.
"We shot a (James) Bond film, and a sequel to our first film that announced us, "Chase". Just watch out for us."
Their most recent project, "Timothee", Ridwan says, prepared them for a grueling year. "Timothee is a project that everybody in the group is excited about, but it didn't come as happy as everybody would think it did.
"We had to submit the film for a festival but even after submitting it, we still continued because we weren't satisfied until the final edit. It helped us understand how important time was, and molded us into the team we are currently."
Nollywood is a $658 million-dollar-industry that has produced hundreds of talented actors and filmmakers across the country. The Critics Company doesn't have a solid stake in it yet but is a group that has shown the possibilities which exist in Nollywood.
The Critics Company's primary goal is to become one of Africa's biggest multimedia studios that want to tell African stories in their own unique way. You can enjoy the process on Instagram (@thecritics001) and on Twitter (@thecritics001) to see all the behind-the-scenes footages as well as their finished works on their YouTube Channel, Critics Company.