The brand, Kai Collective, was established in August 2016 with a deep passion for empowering women and driving equality. Kai seeks to create clothing for multi-dimensional women, who embrace their femininity in all its various forms.

The word 'Kai' is an exclamation of surprise, or shock, in the Nigerian Pidgin. It also means 'victory' in Mandarin, 'ocean' in Hawaiian, and 'strong' or 'unbreakable' in Burmese. These are all words that Fisayo Longe uses to describe her brand.
Fisayo and her clothes have also been featured in some of the most reputable magazines – Elle, Vogue, Cosmopolitan, Stears Business, Forbes, Bella Naija to mention but a few. As ovation to her outstanding contribution to fashion, beauty and the arts, she was listed as one of Forbes 30 under 30, class of 2021, Art and Culture featured honouree.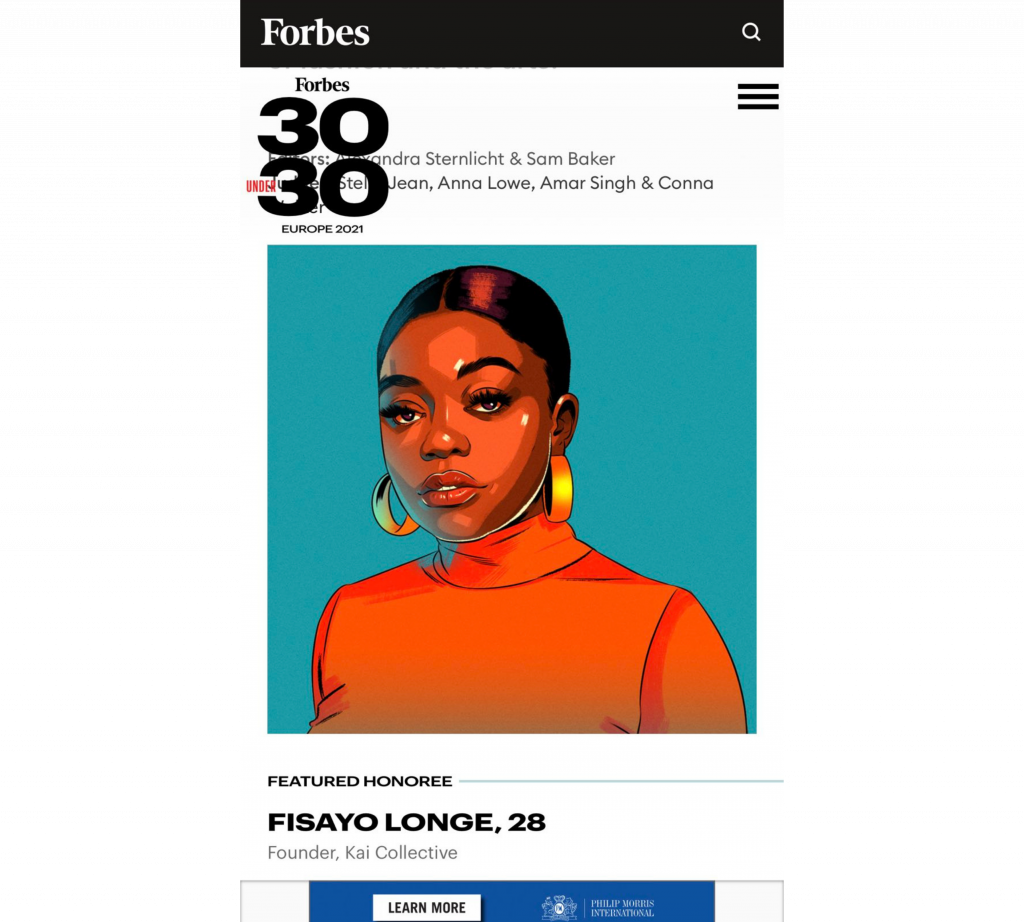 The brand is most known for the 'Gaia Dress' whose prints were made by 'Adebusola of Grapes Pattern Bank'. In Greek mythology, Gaia is known as the ancestral mother of all life. The Gaia is a sheer dress that shows every curve and crevice of the body, and women have spoken about how confident it makes them feel.
Gaia has been rocked by your favourite celebrities; rapper Saweetie, influencer Jackie Aina, influencer Temi Otedola, singer Tiwa Savage, are just some who have recently been spotted in Gaia. The success of the brand, even amid the pandemic that rocked the world, and has greatly affected the fashion industry, can be traced to the fact that, like Fenty Beauty by Rihanna, it isn't only Black-owned but also heavily caters to Black people and, in particular, Black women — a demographic that isn't often catered to in fashion.
In her chat with Okay Africa, some nuggets, on her drive to empowering women through fashion, stood out:
"I always show up primarily for women. I am on this earth for women — my purpose is to create a better world for women and make the women I come across more aware of their power. Kai clothing is for every woman and has been worn by women of all different races, and even men too!


But as a Black woman, Black women are my primary concern. We lie right on the intersection of gender and race discrimination, a unique experience, so I will always make an extra effort for Black women to feel seen and understood. I want to be able to connect with every woman but my priority is to make Black women feel beautiful despite all that we deal with."
Kai Collective is driven by sisterhood, feminism, femininity and female power.