As I prepared for my interview with the renowned environmentalist and social entrepreneur, Yetunde Fadeyi, a name rapidly becoming recognized and mentioned in important rooms around Nigeria and the world, I can't help but innocently wonder how an environmentalist, known for her plethora of works to save the environment from impending climatic collapse, was able to snatch the coveted spot of our weekly Saturday creative showcase.

Like most, I consider creativity to fall within the realm of art. Who will be Nigeria's next Grammy-winning artist like Burna Boy? Who has the tenacity and talent to create the next big thing since the internet? Creativity and environmental work just don't seem to mix. Boy, was I wrong! Throwing on a brown jacket and fixing my large glasses to create the impression of a serious journalist ready to dissect their subject matter, I waited for 3:30 pm, West African Time.
Due to the busy work schedule of a determined climate warrior, we are resigned to a virtual meeting. She calls in by 3:00 pm, however, because her schedule is busier than I thought, as she rushes to catch a flight. I realize my brown jacket and glasses will never be seen, and we will have to make do with hearing our voices over the phone. 

Exchanging pleasantries, I set the phone down and bring out my notepad of questions. Most are about climate change and the current scape of the Nigerian environment, but since I am on a quest to mine her creativity, I know I have to search for deeper meanings behind what she does. 
---
Yetunde Fadeyi and the Early Spark
It is very nice to meet you. I happen to have a keen interest in the environment myself although I watch from the sidelines, I must say. I think we all want the world to heal from the damage the majority of our activities and actions have caused. But you're doing what most of us are possibly too self-centered to do. You've put your focus on repairing the environment. How did you find yourself on this very unique and selfless career path? Many of us want to be Tiwa Savages, Leonardo DiCaprios, and Elon Musks. What made you so passionate about the environment?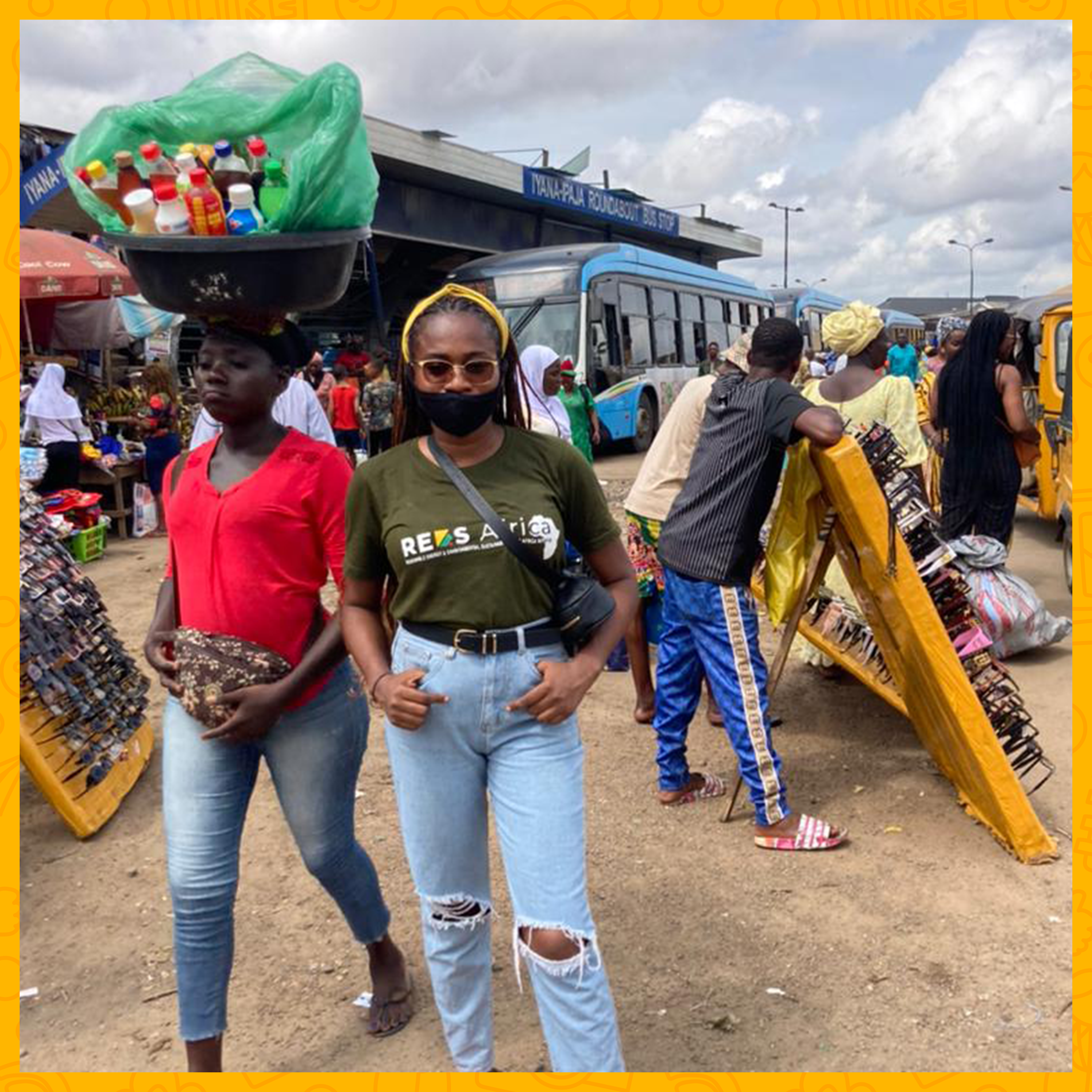 First and foremost, the pleasure is all mine. I've been looking forward to this interview all week. I'm glad we can finally do this. Okay, here we go. Growing up, I actually wanted to be an engineer! It was one of the most popular professions back in the '90s. But for me, I actually loved fixing things around the house.
I would take things apart and put them back together, even better than how they were before. Well, half of the time (she laughs so warmly). My father was always supportive of my dream back then. He made me take extra lessons in maths and science. Not to brag, but I was always top 3 in all of my classes. 

I was around 6 years of age when I experienced something life-changing and eye-opening. My childhood friend died of carbon monoxide poisoning from their family power generator. I realized these machines which seemingly make life better for us, or more bearable, were actually dangerous to us and the environment. Back then, I remember, I was so devastated because there was nothing I could do. 
I'm really sorry to hear about that. It must have been a terrible feeling…
It was and it got worse. By mid-2000, our home was severely flooded. My whole teenage experience was completely wrecked. My father was so sentimental about our home that he kept spending ridiculously, renovating the fences and building trenches. Still, when the floods came, they made away. The community lifestyle made it worse. When it rained, people would bring out their waste to empty into the drainages. Disgusting right?!

Ew. (We both laugh)
By 2012, I had completed my Bachelor's in Chemistry. Somewhere along the line, like everyone else, I started to learn of climate change and what people were doing to fight it. It was there and then that for the first time, I was able to turn that hopelessness I felt as a child into remarkable action. As a member of the Union of Campus Journalists, I wrote about it and pitched the topic at the biggest oratory competition in Nigeria, the Super Bowl Oratory. I emerged as a semi-finalist.
The Energy That Birth Vectar
Fast forward to now, and you're doing so much more than just participating in competitions. The first thing that comes to mind is Vectar Energy, a creation of yours which you describe as "energy in a box"!. How did the idea come about? Was there any creative process involved? 
Vectar Energy is my brainchild, my favorite baby. The idea came to me after I completed my master's. When I learned about the harmful effects of fossil fuels on our environment and, particularly, the atmosphere, I felt I was in a proper place to actually do something.

I just had to think. What could I make that would not only be cost-effective to the average Nigerian but could actually be safe and eco-friendly? Vectar Energy came to me like a thief in the night, and now here we are, offering an innovative solution to our current and growing climate crises.
If you don't want to be overwhelmed by poisonous generators, you can purchase our affordable energy in a box. It's small and portable but performs just as well as a heavy-duty machine. We also designed a framework for you to earn from using it in your homes.

Yes, we know Nigerians like making money the easy way, so when you use Vectar Energy, just know you will earn passive income from us. As to your second question, of course, there was a creative process involved. It takes creative insight to come up with a global product that functions as a portable power station and pays the user as an incentive for using clean, decentralized power in a bid to encourage them to forgo petrol generators. 
---
I must admit, that is pretty creative. You did that. How often does creativity tie into your work as an environmentalist?
Creativity isn't just arts and crafts. It's the ability to see a situation and harness the resources around you to proffer a solution. That's the beauty of creative intelligence. It exists in every industry. If you're not innovative, you will be left behind. That's what Vectar Energy embodies; an innovative solution to an ongoing problem. That in itself is creative power. 
I clap over the phone to let her know I'm impressed, but with the sizzle and crackle of static, I'm not sure if she hears me appreciating her creative prowess. Perhaps, we need another creative genius to solve our internet network issues in Nigeria, and hopefully, they do it quickly.
Creativity isn't just arts and crafts. It's the ability to see a situation and harness the resources around you to proffer a solution.

Yetunde Fadeyi
Aside from Vector Energy, what other projects have you worked on to help bring about sustainable and innovative solutions to our environmental crises in Nigeria?
In the past six years, I have worked with several organizations on many projects. My most recent happens to be authoring 'Jemima and the Wind Turbine' to ensure the next generation of leaders embrace sustainability as a lifestyle. Do you know the book has been endorsed by the Federal Ministry of the Environment?

That's a big win for the environment! The Ministry of Education adopted the book into the National Curriculum as a resource to propagate energy education and environmental sustainability in children. We started in June 2021 and, so far, we have printed over 1,000 copies. It is the perfect gift for any child, maybe even yours. 

(She quickly sends me a link.)
---
Yes, Room for Creativity!
I don't have kids yet. But as a true lover of books, I will make sure I read it. What convinced you to writing 'Jemima and the Wind Turbine' was an effective way to reach children and teach them about climate change?
As a child, I have been a victim of climate catastrophe so I know what it feels like. We have just about 8 years to avoid climate catastrophe and knowing I would have made better choices if properly educated, I feel I can help the young ones have the same opportunity to educate themselves while not feeling overburdened.
I know that education is important and teaching them will help shape a better future. So why not teach them with books? There's a gap in education concerning climate and African children, so I made sure to use African characters to make it more relatable to them and to inspire change in their own hearts. 
Lovely! How would you encourage those who are yet to pick a career path to show interest in their environment?
By all standards, everyone should be an environmentalist. It is not exactly a profession. You can be a photographer and be an environmentalist, or a business operative and be an environmentalist.
How do you see our environment evolving in the next five years? Can creativity help?
It can and it will. Innovation is the only way. By 2027, I believe Nigeria will transition into eco-friendly ways of producing and utilizing energy. I believe more people will be passionate about saving the environment and practicing healthier lifestyles. On my own part, I will keep using my platform to save our country.
Beautifully said. Okay, one last question. You have a flight to catch and possibly many more meetings to attend. When you make it safely to your destination, promise me you'll find time to unwind. With that being said, how does an environmentalist relax? Do you prefer a day out with nature? Or a fun night in the city? Maybe both?
Unwind, haha, okay, oh! I will try to find the time to do this. Our bodies need it. For me, I guess, listening to music, taking a walk, binge-watching Netflix, or a day at the spa is my form of self-care and unwinding. 
As long as it doesn't break the break, I can hit the city with my girls too, but I prefer hiking and just enjoying the beauty of nature.
---
After we said our goodbyes and I removed my brown jacket and spectacles, I laid down and thought about everything Yetunde had said – from her traumatizing childhood to her desire to change the energy industry. I was wrong. She is indeed a creative powerhouse and I'm left feeling completely inspired to not only find better ways to interact with the environment but embrace the different dimensions of creative power. 
Learn more about Yetunde and her journey with Vectar Energy on their official Instagram handle.
---
Interview by Bassey Eyo
Graphics Production by Harry Ugorji